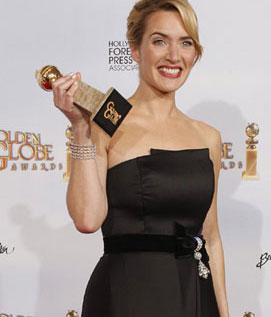 Kate Winslet holds her award for "Best Performance by an Actress in a Supporting Role in a Motion Picture'' for her part in "The Reader'' while backstage at the 66th annual Golden Globe awards in Beverly Hills, California January 11, 2009. [Agencies]
Hollywood's biggest stars donned their finest to strut down the red carpet at the Golden Globes on Sunday with strapless gowns, chandelier earrings, bold colors and black the top choices.
However, black and dark blue were popular with some notable attendees. Double winner Kate Winslet, Amy Adams, Sally Hawkins and Viola Davis were among the many actresses who chose black dresses for the evening event in Beverly Hills, California.
With only a few exceptions, strapless dresses of all colors were the night's biggest trend.
In addition to Winslet and Adams, Hathaway, Eva Longoria, Eva Mendes, Miley Cyrus and Freida Pinto all bared their shoulders.
Actress Sally Hawkins holds her award for best performance by an actress in a motion picture for her role in "Happy-Go-Lucky'', at the 66th annual Golden Globe awards in Beverly Hills, California January 11, 2009. [Agencies]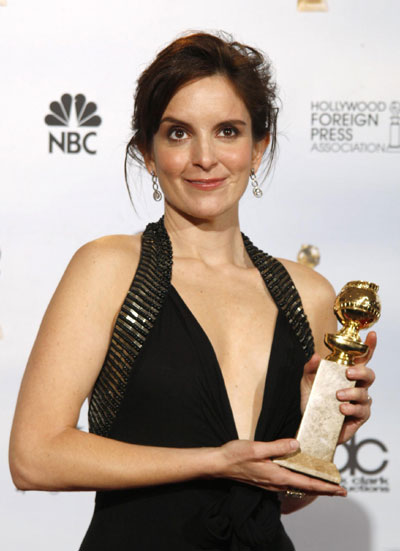 Actress Tina Fey poses with her award for Best Performance by an Actress In A Television Series - Musical Or Comedy in "30 Rock" at the 66th annual Golden Globe awards in Beverly Hills, California January 11, 2009. [Agencies]
Actress Debra Messing arrives at the 66th annual Golden Globe awards in Beverly Hills, California January 11, 2009. [Agencies]
Actress Amy Adams arrives at the 66th annual Golden Globe awards in Beverly Hills, California January 11, 2009. [Agencies]
Actress Christina Hendricks of AMC newtork's "Mad Men" arrives at the 66th annual Golden Globe awards in Beverly Hills, California January 11, 2009. Mad Men is nominated for Best Television Series - Drama. [Agencies]
Kate Winslett holds her awards for Best Actress in a Motion Picture Drama for "Revolutionary Road" and Best Supporting Actress in a Motion Picture for "The Reader" at the 66th annual Golden Globe awards in Beverly Hills, California January 11, 2009. [Agencies]

Taken From : China Daily