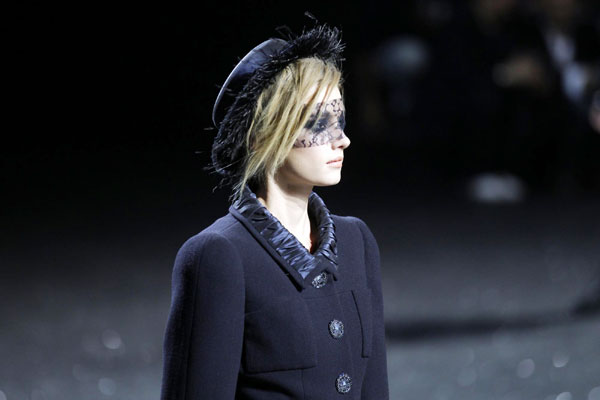 A model presents a creation by German designer Karl Lagerfeld for French fashion house Chanel as part of his Haute Couture Fall-Winter 2011/2012 fashion show in Paris July 5, 2011.[Photo/Agencies]
A new book about the life of Coco Chanel published in the United States on Tuesday aims to strengthen claims the French designer collaborated with the Nazis during World War II as a spy code-named "Westminster."
The book, "Sleeping With The Enemy: Coco Chanel's Secret War," by Paris-based American journalist Hal Vaughan, claims that not only was the designer the lover of a German officer, Hans Gunther von Dincklage, which has been well-documented, but they were spies who went on missions to Madrid and Berlin.
In addition, the book claims Chanel was deeply anti-Semitic.
"Vaughn reveals that Chanel was more than just a Nazi sympathizer and collaborator. She was a numbered Nazi agent working for Abwehr, Germany's military intelligence agency," publisher Alfred A. Knopf said in a statement.
But a representative for the Chanel fashion house on Tuesday poured doubt on the book's allegations.
"What's certain is that she had a relationship with a German aristocrat during the War. Clearly it wasn't the best period to have a love story with a German even if Baron von Dincklage was English by his mother and she (Chanel) knew him before the War," the Chanel group said in a statement.

The fashion house also disputed that the designer was anti-Semitic, saying Chanel would not have had Jewish friends or ties with the Rothschild family of financiers if she were.

But the book draws on English, French, German and American archives to claim Chanel, whose menswear-inspired fashions propelled her to become one of the most influential figures in fashion, went on missions with Dincklage and others to help recruit new agents willing to serve Germany.

It gives her Abwehr agent number as F-7124 and code-name as "Westminster," named after the Duke of Westminster with whom she had a love affair. She died in Paris in 1971, age 87.

She has long been speculated about as being a spy, but was released after being questioned about her ties to Nazi Germany by a judge in France. The book prints some excerpts of her court testimony.



taken from : China Daily