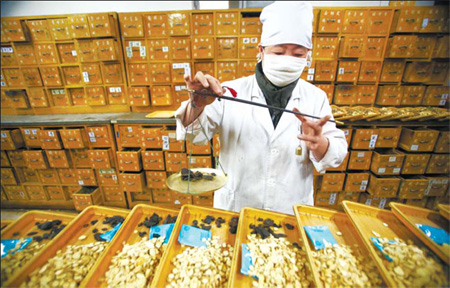 A worker at Dongzhimen traditional medicine hospital measures ingredients for herbal medicine that fights A/H1N1 flu.
The world's first herbal medicine has been created specifically for the treatment of A/H1N1 flu, the Beijing municipal government said at a press conference yesterday.
The Chinese traditional medicine, called Jinhuaqinggan, should be available in hospitals from next year, officials at the conference said.
Fang Laiying, director of the Beijing health bureau, said they are now just waiting for the green light from the State Food and Drug Administration before releasing it to the public, expected in January.
The medicine will be available in powder and liquid forms.
"This medicine not only targets the virus but also other symptoms caused by the disease," said Wang Chen, director of Beijing Chaoyang Hospital.
Wang said clinical tests had been carried out on more than 100 adults less than 70 years of age suffering from A/H1N1 flu, although children weren't included.

"On average, the test subjects were feverish for 16 hours. This is 10 hours less than those who were untreated in the trials," he said.

According to Wang, this was proof of the medicine's effectiveness. However, the medicine was not tested against alternatives already on the market, such as the World Health Organization (WHO) recommended Tamiflu.

According to Wang, daily treatment of the herbal medicine costs 16 yuan, with an average total of 80 yuan for complete recovery.

This is less than the 197 yuan required for Chinese-made Tamiflu, or 283 yuan for the imported version, as reported by the Beijing Youth Daily in November.

Wang did state however that almost 10 percent of the clinical trial's test subjects were asked by doctors to use additional antibiotics to cure the disease after the herbal medicine failed to do so alone.

The municipal government has invested 10 million yuan in the project, allowing for city doctors and hospitals to create the herbal cure in only six months.

Journalists at the conference yesterday questioned whether the testing period was sufficient, noting that western medicines are generally tested for at least one year before being released to the public.

"The new medicine is an updated version of a recipe we have for fever and cold diseases, and has been around for 2,000 years," said Liu Qingquan, director of the Dongzhimen Hospital.

Cris Tunon, a representative of the Senior Program Management Office of WHO China, told METRO yesterday that the WHO was looking forward to the clinical use of Jinhuaqinggan.



taken from : China Daily