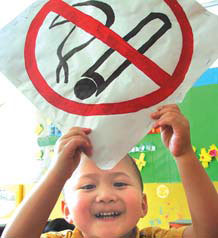 Women who inhaled second-hand smoke as children or as young adults were more likely to have trouble getting pregnant later and suffered more miscarriages than women not exposed to smoke, US researchers reported. They said toxins in the smoke could have permanently damaged the women's bodies and said their finding support restrictions on smoking.
Plunge in measles deaths
Deaths from measles have plummeted by 74 percent globally this decade thanks to a concerted effort to vaccinate children in Africa and other hard-hit regions, health officials said. Measles deaths worldwide fell from an estimated 750,000 in 2000 - the year before the vaccination effort began - to 197,000 in 2007, the UN World Health Organization and other partners in the effort reported.
Hope for healthier blood

US researchers have discovered a gene switch that could lead to better treatments for sickle cell disease and thalassemia, two inherited blood disorders that affect millions of people, they said. Learning how to activate this switch might help doctors direct the body to make healthier blood cells - in this case, replicating conditions found in the womb.

Extended therapy of no use

Doctors around the world are being urged to stop giving prolonged low-dose drugs to those patients with advanced chronic hepatitis C infection who have not responded to an initial round of treatment.

A multi-center clinical trial in the US found no benefit from "maintenance therapy," low-dose peginterferon - in fact, patients who do not respond to initial antiviral therapy are at increased risk of progressing to cirrhosis, liver failure, liver cancer and ultimately, death, say the researchers at Saint Louis University School of Medicine.

"The lesson we learned is that once chronic hepatitis C gets to the stage of advanced fibrosis, patients can decline rapidly," says study head Dr. Adrian M. Di Bisceglie.

Doctors are now pinning their hopes on new drugs that are currently in clinical trials.


Taken From : China Daily