JOHANNESBURG – Governments across the globe pledged Monday to step up the fight against HIV, combatting the stigma associated with the virus and promising to bankroll treatment programmes on the 21st annual World AIDS Day.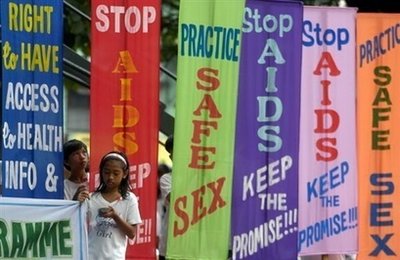 Children stand next to banners displayed during a march to mark World AIDS Day in Olongapo city, Zambales, northern Philippines. [Agencies]
US President George W. Bush was to announce his administration had already met its goal of treating two million people living with HIV/AIDS by the end of the year, while his Chinese counterpart Hu Jintao visited patients with the virus as part of a government effort to fight discrimination.
In South Africa, the country with the highest number of sufferers in the world, the government was mapping out its AIDS strategy under a new health minister as part of a sea-change in attitudes.
South Africans held a moment of silence at midday (1000 GMT) as a mark of respect for victims of the virus which has affected some 5.5 million people.

Speaking at a ceremony in the eastern port city of Durban, newly appointed Health Minister Barbara Hogan said she would "urgently scale up" mother-to-child prevention programmes and urged men to test for HIV, the virus that can lead to full-blown AIDS.


"We enourage all men, I repeat all men, to test themelsves for HIV to protect themselves and the people they love," Hogan said.

"We all know that together we shall overcome," she said.

In Johannesburg, the celebrated Benin-born singer Angelique Kidjo also called for reducing the stigma still attached to the disease.

"HIV/AIDS has become a huge issue for my continent and the fight against it must be relentless and determined," Kidjo said.

In Swaziland, where 26 percent of the adult population is infected with HIV -- the world's highest adult prevalence rate -- the death rate has nearly doubled in the last 15 years due to AIDS, leaving behind a growing number of orphans, a new government report said Monday.

"There is a need in Africa to educate people on the the killer diseases and ailments such as AIDS, malaria, dysentary, cholera," said Kidjo, a Grammy Award winning singer and a UNICEF goodwill ambassador.

"It is pleasing to note that treatment for these diseases is becoming more accessible to people," said Kidjo, who was travelling to Dakar later Monday for a two-day musical campaign aimed at reducing the stigma of AIDS.

In Beijing, Hu's visit to a hospital was also designed to strip away some of the stigma attached to the virus and the Chinese leader praised volunteers as an "indispensable force" in the battle against the disease.

"One of the important tasks of volunteers is to spread knowledge about AIDS prevention so that every citizen can have that knowledge," Hu said in a state television report.

"This way, all of society can work together to prevent AIDS."

China along with the United Nations launched a campaign Sunday to raise awareness about HIV/AIDS.

In London, Britain's Prime Minister Gordon Brown noted that while significant progress has been made the impact of the disease "remains immense", especially in the poorest corners of the globe.

"Nearly 7,000 people every day are becoming infected with HIV and over 5,700 are dying. For every two people put on treatment there are five people newly infected," Brown said in a statement.

African nations have expressed concern that the world's richest countries grappling with the global economic crisis may cut back on AIDS funding.

But Brown urged world leaders "to hold firm to their promises to improve the health of the poorest, even in the midst of the current economic challenge."

Meanwhile the White House said that Bush's emergency plan for AIDS relief (PEPFAR) had now supported life-saving antiretroviral treatment for over 2.1 million men, women and children living with HIV/AIDS around the world, including more than two million people in Sub Saharan Africa.

The programme provides funding for HIV/AIDS, malaria and tuberculosis treatment in 15 focus countries among the world's poorest, mainly in Africa.

"PEPFAR is the largest commitment by any nation to combat a single disease in human history," White House spokeswoman Dana Perino said in a statement.
Taken From : China Daily