By Wen Chihua (China Daily)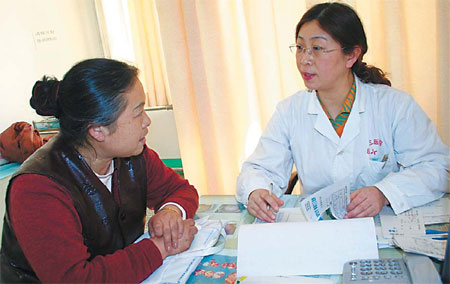 Clinical trials of a new drug hold promise for many Chinese women at risk of cervical cancer in the rural areas. Liu Baocheng
The young mother looked nervous, sweat appearing on her forehead, as a doctor injected her with a vaccine to protect her from cervical cancer.
Seconds later she looked at her right arm and smiled.
"Now, I feel safe and relieved," said Yao Junxia, 28, whose mother had cervical cancer and had to have a hysterectomy. "At first, I was little worried that I might miss this chance and not be vaccinated."
Yao is in an observation room at the Maternal and Child Healthcare Hospital in Xiangyuan county, Shanxi province. In the consulting room next door, however, Zhang Na, 25, sits on a plastic stool, struggling to hold back her tears after being told she is ineligible for the vaccine for the time being.
"It's because I'm breast feeding my daughter. She's only 15 months old," Zhang says. "I've being waiting for this vaccine since last December when the village doctor was recruiting volunteers for the clinical trial."
Zhang casts an envious glance at her eligible neighbors from Nanlixin. The village has a population of 2,600, a thousand of them women. It also has a relatively high incidence of cervical cancer.
Village doctor Huang Suying, 60, has seen a dozen women lose their lives to the disease in the past 30 years. Last year two more were diagnosed with cervical cancer.
It is easy to prevent and to cure if diagnosed early enough, but ineffective screening systems mean the disease has become quite widespread in parts of the coal-mining province of Shanxi on the arid Loess Plateau. The incidence and mortality rates of cervical cancer are almost 10 times higher there than the national average, says Dr Qiao Youlin, a prominent epidemiologist with the Cancer Institute of Chinese Academy of Medical Sciences.

Latest figures released by the Cancer Institute suggest that in Xiangyuan county, 36 out of every 100,000 women die from cervical cancer, 10 times the national average, against the world's average rate of 8 out of every 100,000.




After breast cancer, cervical cancer is the world's second most lethal female cancer, affecting 500,000 women a year, more than 100,000 of them in China. More than 70 percent of them are found among rural women.

The international medical community says a virus called HPV (human papilloma virus) is a contributing factor. HPV is one of the most common causes of STDs (sexually transmitted diseases) in the world. Scientists have discovered more than 60 types of HPV, of which the low-risk types mostly cause genital warts and the higher-risk ones are linked to cervical cancer.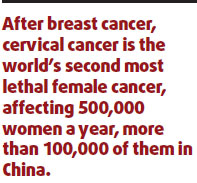 The vaccine Gardasil, developed by American pharmaceutical giant Merck, works by immunizing women and girls against four strains of HPV.

A women needs to be injected with three doses of the vaccine within six months in order to be protected. HPV quietly deteriorates the cells in the cervix and invades surrounding tissues. If not detected early, the virus leads to a cancerous lesion.

In addition to Xiangyuan, where 600 rural women have already been vaccinated, the same trial of about 1,400 women of the same age group is also taking place in Beijing, Inner Mongolia, Guangdong and Zhejiang.

Qiao says this trial is significant as it is the last phase before approval by China's State Food and Drug Administration (SFDA).

Gardasil is now available in 109 countries and regions, including Hong Kong, Macao and Taiwan. "It seems to be more accessible for the rich, as the price for three doses is about 3,000 yuan," says Qiao, hoping that Merck will implement a two-tier price structure lowering prices for the mainland Chinese market.

Asked about the likely price in China, Dr Zili Li, Merck's medical director in China, says: "Our responsibility is to make sure we bring safe and effective vaccines to Chinese women in a timely manner. As for the price, I think it is still too early to discuss it."




HPV is a common virus. Up to four out of five women will encounter it at some point in their life, says Qiao.

He notes that women who have a high number of sexual partners, start having sex at an early age or whose partners have contracted any STD, are at a higher risk.

Vaccination is therefore most effective when given to females before they are likely to be exposed to HPV, that is, before they are sexually active, Qiao explains.

Different countries and regions have different value systems, however, so the age group for vaccination varies. Qiao says another problem is that China has no reliable data about what age youths first engage in sexual contact.

In the United States, statistics released by the Henry J. Kaiser Family Foundation in 2005 revealed the median age for boys was 16.9 years and 17.4 years for girls.

In order to nail down the best age for vaccinations in China, Qiao and a team from the Cancer Institute will soon launch a nationwide survey covering Chinese women's sexual behavior and awareness of HPV.

"The survey will include more than 10,000 women aged between 15 and 54," he says.

After the full course of three doses, it takes another two and a half years to track the effect of the vaccine, so Qiao reckons it will take at least three years to get the vaccine approved and released on the mainland.

As for Zhang Na in Xiangyuan, she says: "Once Gardasil is available here, I will help my daughter get the vaccine as soon as she is old enough. By then, I think the price will be affordable for Chinese women like me."